Biotech: the engines of acquisitions are heating up again
30 August 2022 _ News

A flurry of M&A deals among US biotech companies is driving the recovery of one of the hardest hit sectors since the start of the year.
The latest deal was announced by Pfizer Inc., which intends buy Global Blood Therapeutics Inc, a deal worth .4 billion. Earlier, Amgen Inc. said it would spend .7 billion to purchase ChemoCentryx Inc. Gilead Sciences also said it would pay 5 million for MiroBio. And, in the early summer, Merck declared an interest in acquiring Seagen Inc., a deal that could be worth billion.
Such deals are crucial to the industry, with many small liquidity-intensive companies looking to attract large biopharmaceutical companies to help financing drug development as they move through limited cash reserves. At the same time, larger companies want to add innovative assets to their pipelines and portfolios. The value of transactions in the third quarter is already higher than that of the entire first three months of the year, according to Bloomberg.
In addition to M&A operations, another fundamental driver of the sector are positive research data, emerged especially in recent weeks.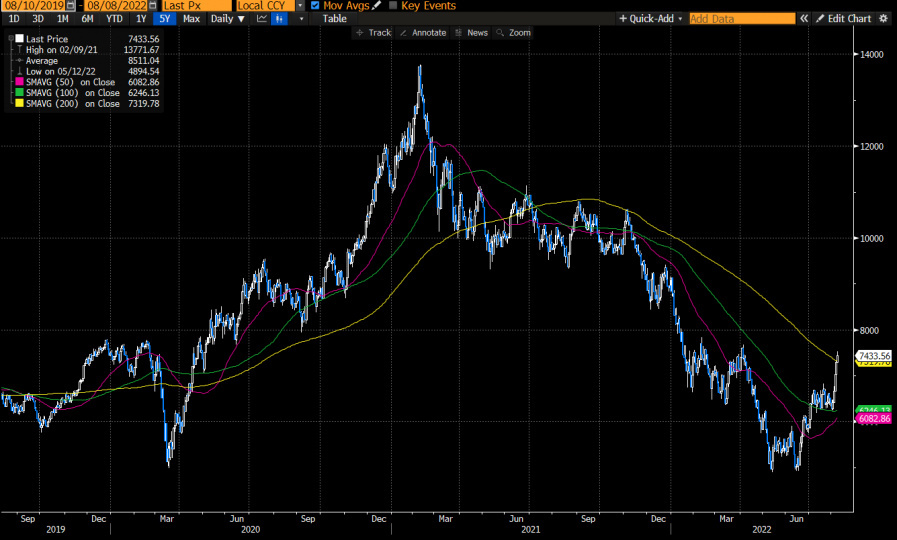 Information message - The information in this message is produced for information purposes only and therefore does not qualify as offer or recommendation or solicitation to buy or sell securities or financial instruments in general, financial products or services or investment, nor an exhortation to carry out transactions related to a specific financial instrument.
The contents of this informative message are the result of the free interpretation, evaluation and appreciation of Pharus Asset Management SA and constitute simple food for thought.
Any information and data indicated have a purely informative purpose and do not in any way represent an investment advisory service: the resulting operational decisions are to be considered taken by the user in full autonomy and at his own exclusive risk.
Pharus Asset Management SA dedicates the utmost attention and precision to the information contained in this message; nevertheless, no liability shall be accepted for errors, omissions, inaccuracies or manipulations by third parties on what is materially processed capable of affecting the correctness of the information provided and the reliability of the same, as well as for any result obtained using the said information.
It is not permitted to copy, alter, distribute, publish or use these contents on other sites for commercial use without the specific authorization of Pharus Asset Management SA.