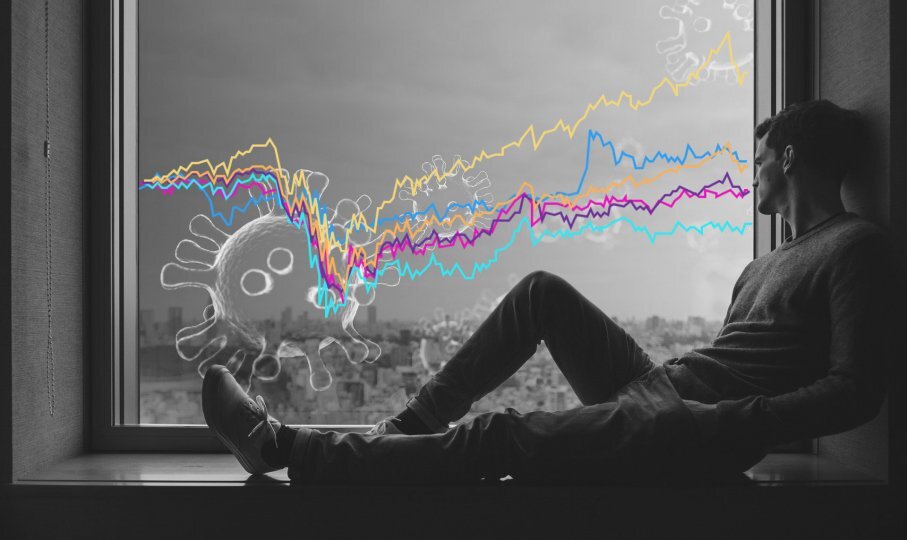 What effect might a possible new lockdown have on earnings in Europe?
November 3rd, 2020
Analysis of the current situation: Q3 2020 reporting season
It seemed as if an end had finally come to the cut in earnings growth estimates for European stock markets. In the last month, in fact, expectations of profit growth for the 3rd quarter of 2020 had gone from an expected drop of -40% on 15 September to an expected drop of -30% on 27 October.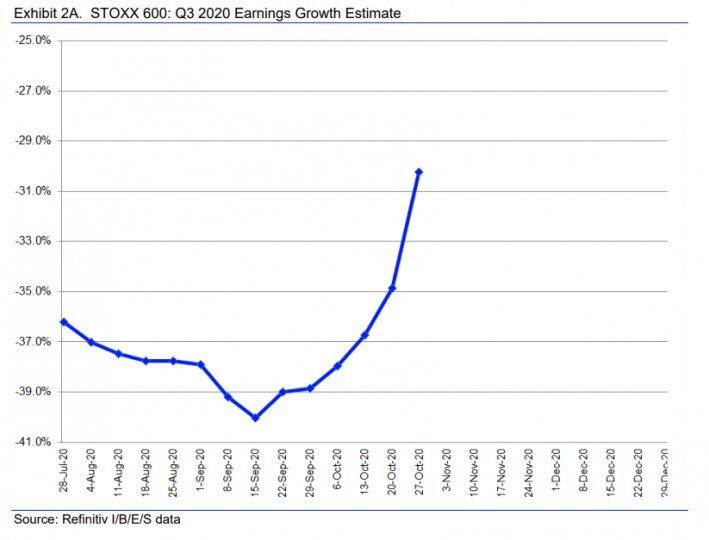 In Europe, although 5 months behind the USA, the curve seemed to be bottoming out with a sideways movement in European earnings, an indispensable prelude to a change of trend and precursor to their possible upward revision.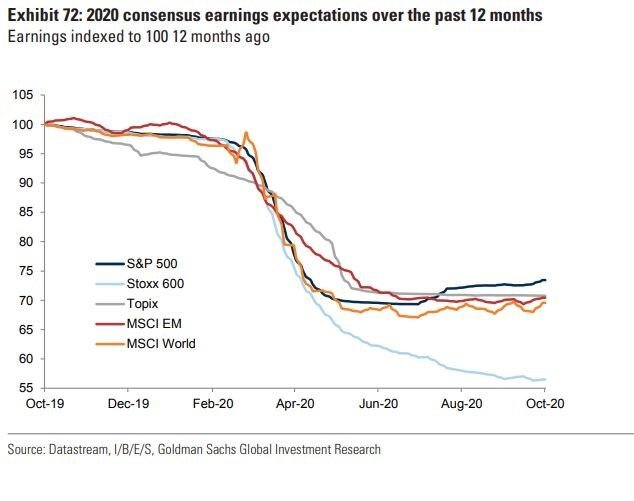 If we take the current European profit season as a reference, as of 27 October, about 110 companies had reported, 57% of which exceeded estimates. At sector level, however, only property, utilities and technology grew in the third quarter of 2020. In contrast, the energy, materials and industry sectors showed substantial declines in earnings: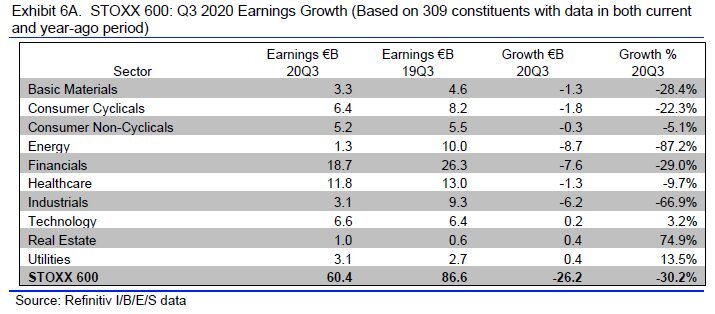 Extending the analysis from just the third quarter to the whole of 2020, the consensus reached so far is that, of the entire European market, only utilities will be able to record increased earnings compared to the previous year, against a 35.5% decrease in expected market earnings: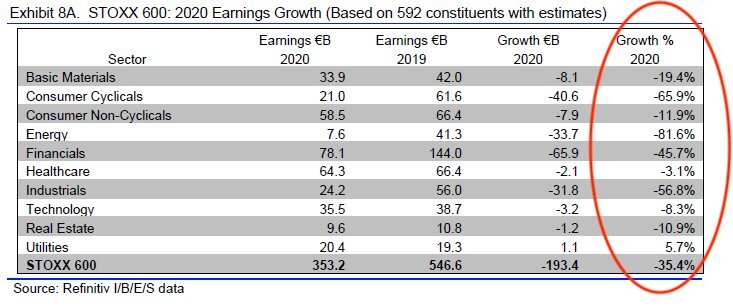 But does the -35.5% drop in European market estimated earnings already reflect the effects of a potential second lockdown?
We have tried to answer this question by analysing both earnings and prices.
Earnings
Starting from an expected 35.5% drop in earnings for 2020, and breaking down the different quarters, a worrying picture emerges for earnings in European markets (Q1 2020 -38.2%, Q2 2020 -50.8%, Q3 2020 -30.2% and Q4 2020 -23%) which becomes even more dramatic when compared to a projected drop in earnings for the US Stock Market in 2020 of only -17%.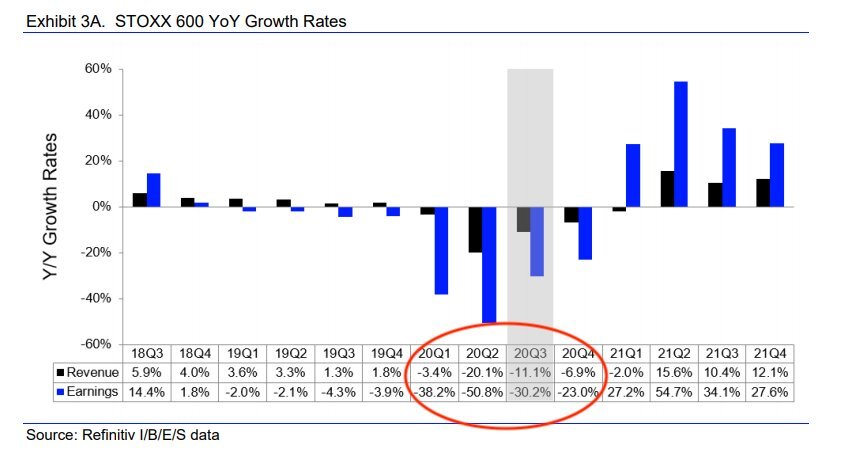 This negative trend is due not only to the adoption of very stringent lockdown measures by European countries, but also to the sectoral composition of the index. As far as the latter is concerned, while the weight of the more resilient sectors, such as technology and communications, has increased considerably in the index over the last period, their contribution to earnings is unfortunately still marginal. Cyclicals still weigh heavily, as do financials with around 22% of total European earnings.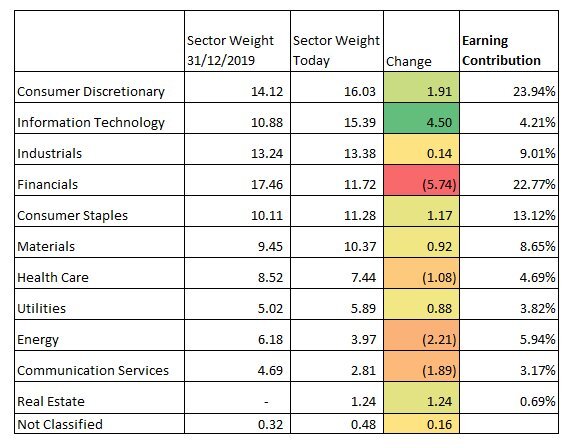 Assuming there is a further general lockdown in the 4th quarter of 2020, we have assessed what its impact on earnings could be.
We can assume for the fourth quarter 2020 an effect on earnings in line with that already recorded during the previous lockdown in February/March and therefore bring the expected growth in earnings to -50% compared to the current -23% forecast. This would have the effect of bringing the expected growth for 2020 to -42.3% compared to the -35.5% currently discounted by the market, being a further -7% effect on earnings and of therefore limited impact.

Prices
Given the limited impact on earnings, what might be the effect on prices?
To answer this question, let us first try to understand what the market is discounting on current prices.
We are therefore thinking of the EPS expected at market level both in the current consensus estimates and in those we have calculated previously, which incorporate an additional lockdown (a further -7% on earnings). We then define a multiple of P/E appropriate to these bottom-line earnings (the last profit achieved recently saw P/E touching 22 times the earnings) with which we finally multiply EPS. According to these estimates, a new lockdown would give a target price for the European stock market of 341, practically in line with current prices.

Conclusion
Our analyses lead us to believe that European indexes, from a fundamental point of view, have no specific downsides and seem to be already largely adapted to a general lockdown scenario.
In our view, any index corrections would, on the other hand, only be driven by an increase in investors' aversion to risk, which translates into a higher premium for the required risk, linked to general uncertainty in the markets, a factor that usually has short-term effects on market values and which we expect can be quickly absorbed in the light of the ever greater likelihood of a vaccine and the enormous fiscal stimulus that Europe is also preparing to approve to support the economy.
There is no doubt that the situation is difficult and that optimism in this context is perhaps more difficult to accept, but if we do not limit ourselves to the immediate and we broaden our horizons both temporally and geographically (e.g. to the USA and China), we can only see eventual market corrections as an opportunity, and ultra-expansive fiscal policies, coordinated with, and financed by, monetary policy, as the precondition for a new recovery
---
Information message - The information in this message is produced for information purposes only and therefore does not qualify as offer or recommendation or solicitation to buy or sell securities or financial instruments in general, financial products or services or investment, nor an exhortation to carry out transactions related to a specific financial instrument.
The contents of this informative message are the result of the free interpretation, evaluation and appreciation of Pharus Asset Management SA and constitute simple food for thought.
Any information and data indicated have a purely informative purpose and do not in any way represent an investment advisory service: the resulting operational decisions are to be considered taken by the user in full autonomy and at his own exclusive risk.
Pharus Asset Management SA dedicates the utmost attention and precision to the information contained in this message; nevertheless, no liability shall be accepted for errors, omissions, inaccuracies or manipulations by third parties on what is materially processed capable of affecting the correctness of the information provided and the reliability of the same, as well as for any result obtained using the said information.
It is not permitted to copy, alter, distribute, publish or use these contents on other sites for commercial use without the specific authorization of Pharus Asset Management SA.
Back to all news
---
Related News