Matter of "breadth"
25 May 2023 _ News

U.S. and European stock indexes have been performing in double digits since the beginning of the year, with Nasdaq having a 2 ahead. But analyzing the leading market, the U.S. S&P500, a problem of "breadth," or very poor upside participation, arises, with more than 80 percent of the index's rises being attributable to fewer than ten stocks. In fact, as we can see from the chart, since the beginning of the year we have the 7 U.S. big tech stocks performing about +45% compared to the entire rest of the market that would perform as poorly as -3%.
Even if we look at the ratio between S&P500 equal weight and traditional S&P500 we see the ratio declining reflecting a very polarized upside participation on a few stocks.
As we can easily see from the chart, in the early stages of bull markets (yellow areas), this ratio tends to increase, indicating that more and more stocks are participating in the bull run; but in the wake of the U.S. banking crisis, this measure of bull participation is now instead decreasing.
Should we trust a rise in indexes led by only a few stocks?
The good news is that if we look at earnings fundamentals before prices, we see that there is a significant increase in the number of companies that are reporting upward earnings revisions. The percentage of S&P500 companies with upward earnings changes has rebounded from a recent low of 51 percent to an 11-month high of 75 percent, a figure that has always characterized the early phase of bull markets.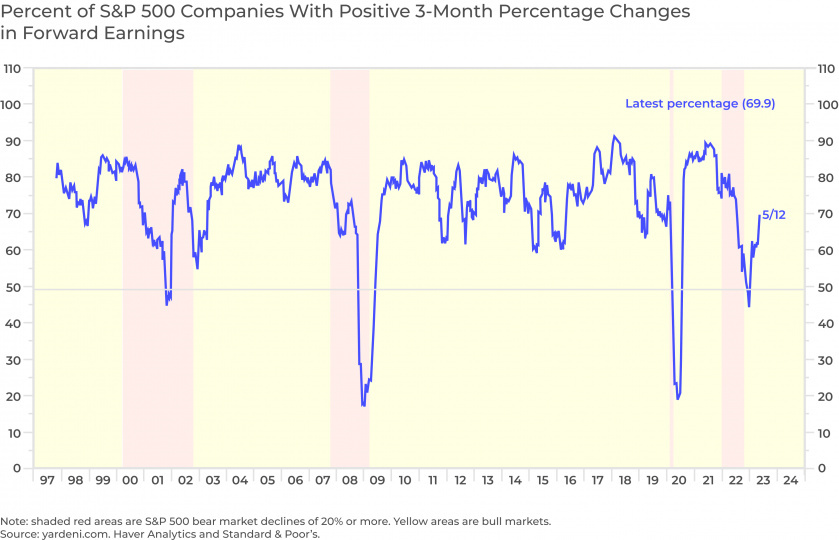 It is still too early to say whether we are really in the initial phase of a new bull market. We first believe that the resilience of these earnings, consistent with a moderately slowing economic environment, is critical, and we believe that the participation of stocks in the rise of markets (breadth) will also tend to increase once investors incorporate the end of the banking crisis and fears of a credit crunch are allayed.
Unfortunately, it will take a lot of patience, because the effects of the credit crunch on the real economy will likely have a time lag of a couple of quarters, and inflationary dynamics will not totally disappear.
A famous Templeton quote says "bull markets are born in pessimism and grow in skepticism," two sentiments very much shared by investors, which in a just-described context of upward earnings revisions give hope to those who see the recent rise in markets as the beginning of a new bull market rather than just a rebound in a market that is still bearish.
Information message - The information in this message is produced for information purposes only and therefore does not qualify as offer or recommendation or solicitation to buy or sell securities or financial instruments in general, financial products or services or investment, nor an exhortation to carry out transactions related to a specific financial instrument.
The contents of this informative message are the result of the free interpretation, evaluation and appreciation of Pharus Asset Management SA and constitute simple food for thought.
Any information and data indicated have a purely informative purpose and do not in any way represent an investment advisory service: the resulting operational decisions are to be considered taken by the user in full autonomy and at his own exclusive risk.
Pharus Asset Management SA dedicates the utmost attention and precision to the information contained in this message; nevertheless, no liability shall be accepted for errors, omissions, inaccuracies or manipulations by third parties on what is materially processed capable of affecting the correctness of the information provided and the reliability of the same, as well as for any result obtained using the said information.
It is not permitted to copy, alter, distribute, publish or use these contents on other sites for commercial use without the specific authorization of Pharus Asset Management SA.