Narratives change and imbalances return
14 September 2023 _ News
The prevailing market narrative once again homes in on macrodata and, in particular, the resilience of US economic data as compared to the deteriorating European data. As shown by the analysis of the CITI economic surprise index — a barometer of macro data surprises — the US index has recovered in the last week, while the European index has fallen abruptly.
Another hot topic for investors in recent days has been the Chinese economic slowdown in combination with renewed geopolitical tensions between China and the United States. These factors are creating great uncertainty for increasing numbers of investors regarding the soundness of the Chinese economic growth model, with worsening sentiment and sales with respect to China and many stocks that are highly dependent on sales to the Chinese market. In particular, the decision by some Chinese government agencies to restrict government employee use of iPhones has pushed down not only Apple's stock (which lost 7% in two days) this year but also a few Nasdaq mega-caps and other market top performers such as luxury stocks with significant exposure to the Chinese market.
In other words, it is the classic excuse to take profits on certain sectors and stocks that have simply become overvalued. And then, as always happens when market valuations rise too high, sooner or later, the same old news will become an excuse to bring valuations back to more appropriate levels.
One example of this is the stock of the world-leading luxury brand LVMH, which has undergone a 20% correction from its highs and is now trading at an average valuation of 20x earnings, after having traded at 36x earnings with a performance of +35% since the beginning of the year. This is simply the correction of an imbalance, with excessive valuations back to average levels.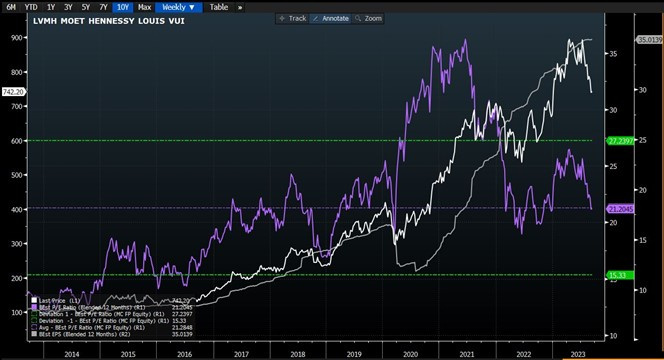 Meanwhile, the artificial intelligence (AI) issue continues to dominate the markets. In the reporting season just ended in the United States, 177 companies mentioned the term "AI" in their notes — an unprecedented occurrence — and the stock market performance of these companies after their results was well above market level.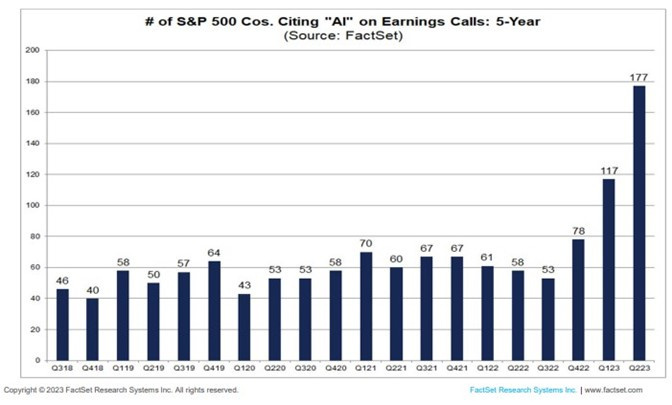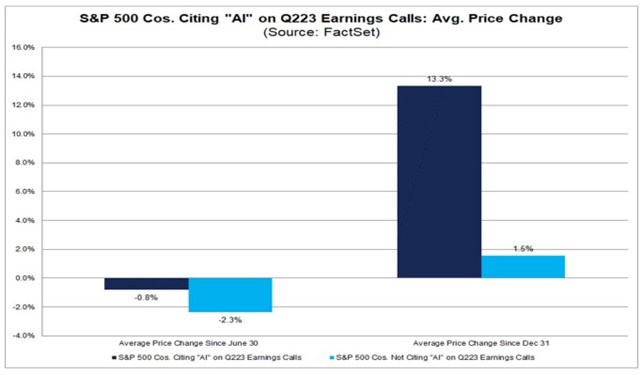 Still, with AI, anticipation is building for SoftBank's upcoming IPO of ARM, a leading British company in chips for data centres and artificial intelligence. The company is expected to be listed with a valuation of around USD 55 billion. We are talking here about multiples of around 20x turnover and 90x profits, with demand so strong that SoftBank is thinking of revising its offer price upwards. Tesla also posted +10% yesterday, after a Morgan Stanley analyst highlighted the company's optimistic outlook on developments in AI and its supercomputer for analysing self-driving data.
We cautiously watching these very high valuation stories and continue to see great imbalance in the markets in favour of defensive sectors. Examples are pharmaceuticals, consumer non-discretionaries and especially utilities. The latter has underperformed the S&P 500 by 30% since the start of the year — a level of underperformance hardly ever seen before. We believe these sectors could return to outperformance in a risk-off and macrodata scenario, which we expect to continue to deteriorate over the coming months.
Information message - The information in this message is produced for information purposes only and therefore does not qualify as offer or recommendation or solicitation to buy or sell securities or financial instruments in general, financial products or services or investment, nor an exhortation to carry out transactions related to a specific financial instrument.
The contents of this informative message are the result of the free interpretation, evaluation and appreciation of Pharus Asset Management SA and constitute simple food for thought.
Any information and data indicated have a purely informative purpose and do not in any way represent an investment advisory service: the resulting operational decisions are to be considered taken by the user in full autonomy and at his own exclusive risk.
Pharus Asset Management SA dedicates the utmost attention and precision to the information contained in this message; nevertheless, no liability shall be accepted for errors, omissions, inaccuracies or manipulations by third parties on what is materially processed capable of affecting the correctness of the information provided and the reliability of the same, as well as for any result obtained using the said information.
It is not permitted to copy, alter, distribute, publish or use these contents on other sites for commercial use without the specific authorization of Pharus Asset Management SA.