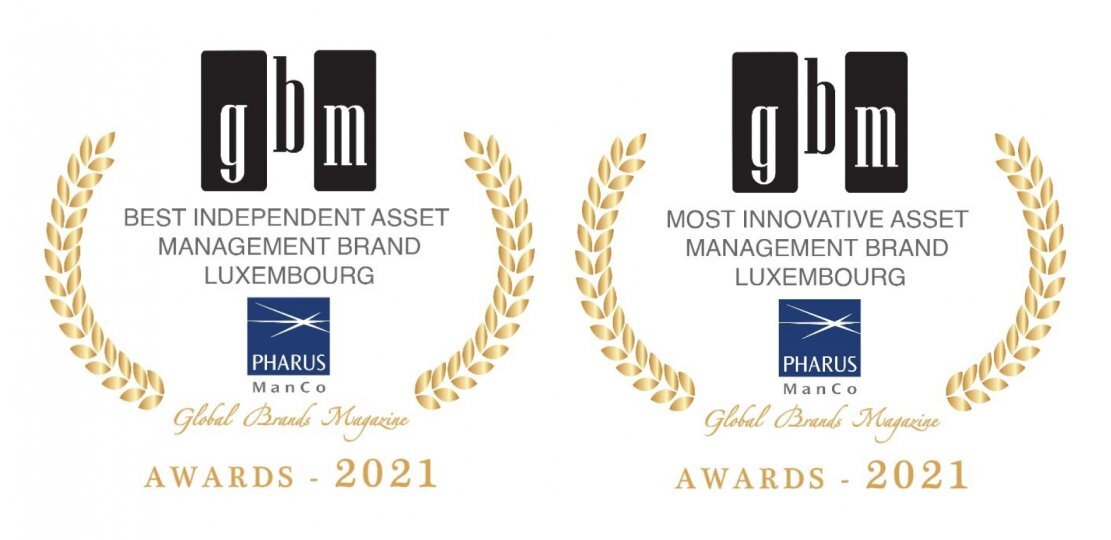 Pharus Management Lux SA awarded by Global Brands Magazine
April 28th, 2021
We are delighted to announce that Pharus Management Lux SA has been awarded by Global Brands Magazine for the year 2021 as the "Most Innovative Asset Management Brand, Luxembourg" and the "Best Independent Asset Management Brand, Luxembourg" in the Investment Awards Category.
Global Brands Magazine announces a list of winners every year, which is a part of their outreach campaign to identify & recognize the significance of exceptional service delivery & reward the performance with the ultimate global recognition. The evaluation was performed over 7000 companies. These awards are based on the merit and achievements of the company taking into account a wide range of criteria.
Luigi Vitelli, CEO & Managing Director comments: "We have recorded a significant increase of AUM since 2017, with a strong commitment and willingness to embrace our values. The year 2020 has confirmed that our business model based on the insourcing of key investment fund functions is in high demand, allowing us to provide our clients with tailor-made services. Hence, the quality of our value chain is improved.
Being an Independent Group, is a real competitive advantage that allows us to be quicker and efficient in terms of decision-making. Working with an Entrepreneurship approach, we are in constant evolution, which calls for creativity and innovation in the services delivered.
In this context, the two criteria of independence and innovation are closely linked in our Company. Receiving these two awards, "Most Innovative Asset Management Brand" and "Best Independent Asset Management Brand" was a great achievement for our Company and it motivates us to move forward in the same direction."
---
Information message - The information in this message is produced for information purposes only and therefore does not qualify as offer or recommendation or solicitation to buy or sell securities or financial instruments in general, financial products or services or investment, nor an exhortation to carry out transactions related to a specific financial instrument.
The contents of this informative message are the result of the free interpretation, evaluation and appreciation of Pharus Asset Management SA and constitute simple food for thought.
Any information and data indicated have a purely informative purpose and do not in any way represent an investment advisory service: the resulting operational decisions are to be considered taken by the user in full autonomy and at his own exclusive risk.
Pharus Asset Management SA dedicates the utmost attention and precision to the information contained in this message; nevertheless, no liability shall be accepted for errors, omissions, inaccuracies or manipulations by third parties on what is materially processed capable of affecting the correctness of the information provided and the reliability of the same, as well as for any result obtained using the said information.
It is not permitted to copy, alter, distribute, publish or use these contents on other sites for commercial use without the specific authorization of Pharus Asset Management SA.
Back to all news
---
Related News