The European Reporting Season
The start of the European reporting season also seems to confirm that the earnings bottom is now behind us, as already highlighted by the American data. About 1/4 of European companies have already reported, with numbers that have allowed the growth expectations of the Eurostoxx 600 to recover from the lows of a few months ago: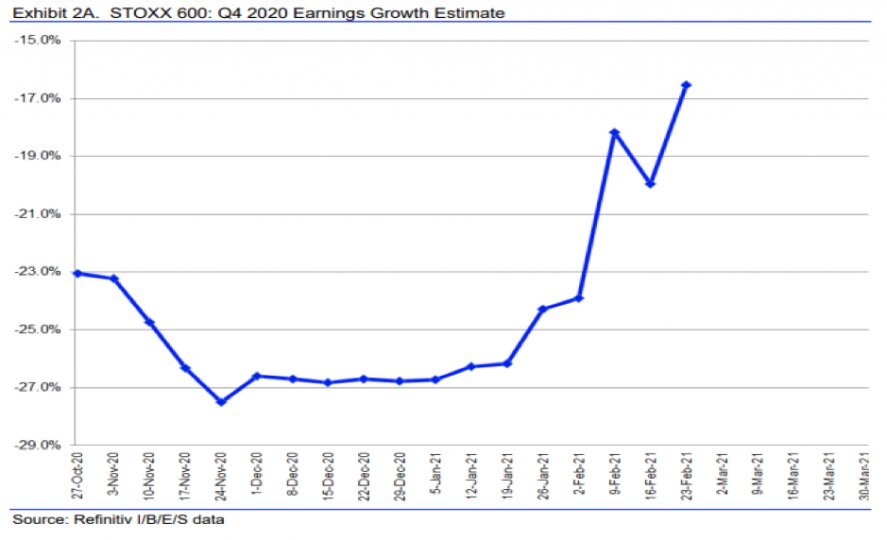 The Q42020 has in fact started in Europe with decreases of about 16,5%, compared to the expectations of -27% at the end of 2020, an improvement of about 10% driven by company surprises. In fact, almost 70% of the companies beat the estimates. The best sectors of the European markets were the most cyclical: cyclical Materials and Consumer, which showed growth of + 63.6% and + 31.7% respectively.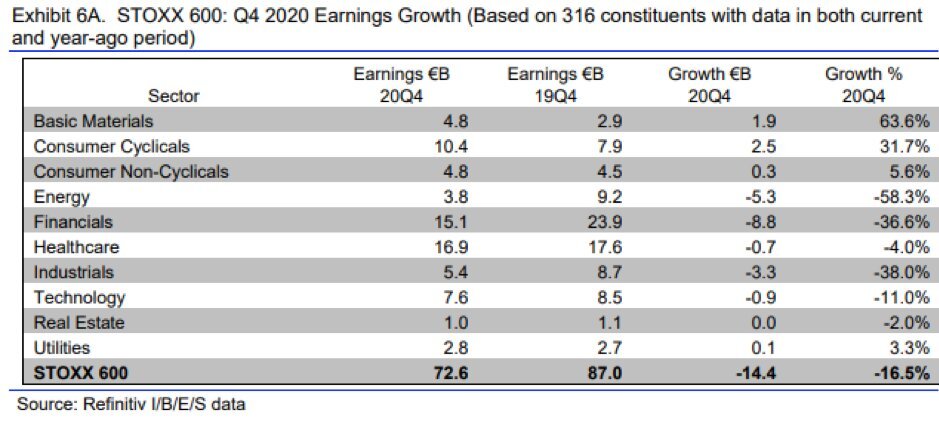 For 2021 a strong recovery is expected in the sectors that have been most negatively affected by the Covid-19 pandemic, such as the most cyclical sectors. Among the European ones it is very interesting to see how the utility sector is the only asset class with positive and stable growth over time.
For 2021, expectations are for +41%, an improvement compared to the end of 2020: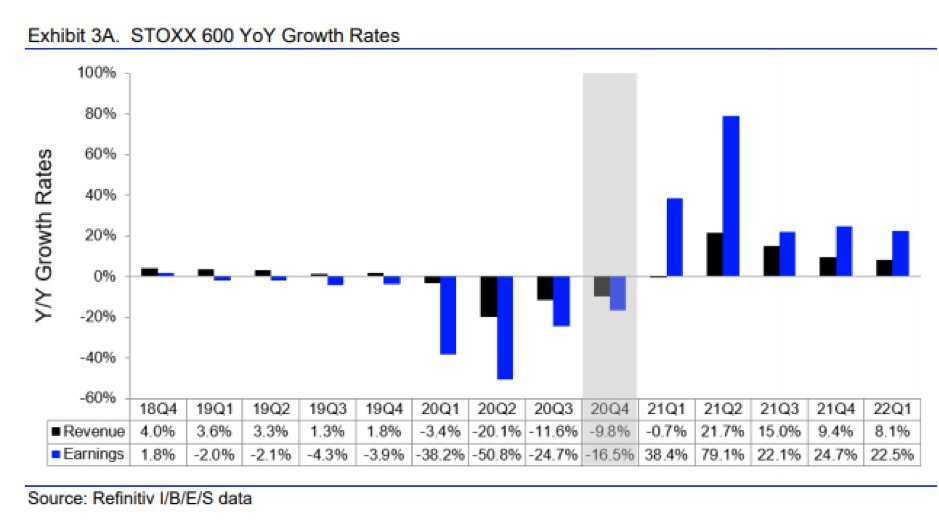 Considering the very positive start of the reporting season and the coordinated economic recovery, we continue to be positive on the cyclical recovery of earnings also in Europe.
---
Information message - The information in this message is produced for information purposes only and therefore does not qualify as offer or recommendation or solicitation to buy or sell securities or financial instruments in general, financial products or services or investment, nor an exhortation to carry out transactions related to a specific financial instrument.
The contents of this informative message are the result of the free interpretation, evaluation and appreciation of Pharus Asset Management SA and constitute simple food for thought.
Any information and data indicated have a purely informative purpose and do not in any way represent an investment advisory service: the resulting operational decisions are to be considered taken by the user in full autonomy and at his own exclusive risk.
Pharus Asset Management SA dedicates the utmost attention and precision to the information contained in this message; nevertheless, no liability shall be accepted for errors, omissions, inaccuracies or manipulations by third parties on what is materially processed capable of affecting the correctness of the information provided and the reliability of the same, as well as for any result obtained using the said information.
It is not permitted to copy, alter, distribute, publish or use these contents on other sites for commercial use without the specific authorization of Pharus Asset Management SA.
Back to all news
---
News Correlate