This is not 2008
23 March 2023 _ News

The financial market is unstable by nature, and always has been, because of the emotionality that drives market participants. Indeed, emotions move like a pendulum, swinging from euphoria to fear, and generate instability, whose management is the job of Central Banks.
To lower inflation, rates have been raised, the rise of which, however, has created imbalances on financial stability, which affected several economic sectors such as technology, discretionary and telecommunications last year, and has shifted to the financial sector in recent weeks.
Hardest hit were the most fragile banks, often weakened by management and operational errors not allowed to the banking sector, where trust turns out to be the main variable, which, in order to be restored, requires the intervention of Central Banks.
Against this backdrop of deteriorating financial stability, Central Banks find themselves struggling over how to use the two levers at their disposal, namely rates and liquidity to inject into the system.
On the interest rate side, the consensus is that central banks are close to the famous pivot point, and the market is in fact already telling us that rates have arrived. The U.S. terminal rate in a single week went from 5.9 percent to 5 percent and the European rate from 4.10 percent to 3.4 percent, discounting the medium-term scenario of a clearly slowing economy coupled with heavily deteriorating financial conditions, with a slowdown in credit supply and demand. Conditions that some economists say are equivalent to an impact on the economy equal to raising rates by 150 basis points.
In the last week FED again expanded its balance sheet by about 0 billion, half of which was used to give credit lines to U.S. banks, erasing six months of quantitative tightening in a single week.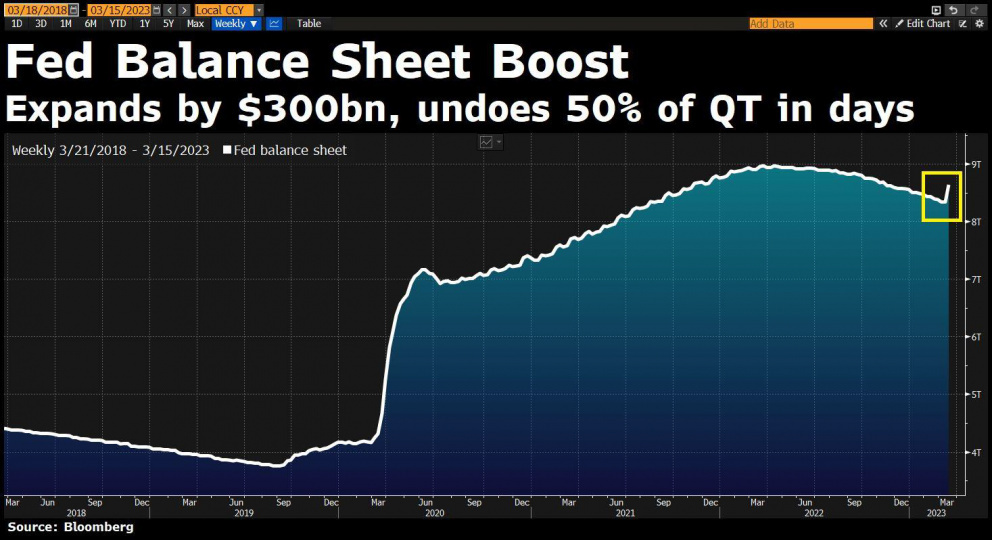 Looking ahead, we believe we are in the final part of the turbulence for two reasons. First, because Central Banks have succeeded in lowering inflation. Second, because Central Banks also have as their goal financial stability, which just in recent weeks has been hit, making their intervention and support necessary.
As we have been arguing for several months, medium- and long-term interest rates have finished rising. This is because long-term rates move by following market expectations of economic growth, and so very short-term rate movements controlled by Central Banks barely matter.
Markets, beyond a short squeeze, will have to contend with declining inflation and an economic cycle that will tend to slow, in an environment that remains one of solid economic growth.
On our equity valuation model, the fall in rates plays a positive role, and the rise in the equity risk premium is limited mainly to the financial sector. It will remain key to understand the effect on earnings, but we already see a further 5 percent earnings cut priced into the U.S., which could return to outperform Europe due to exposure to tech, which is considered defensive and has excess cash.
U.S. equities and duration on government bonds are the recipe for navigating the storm, with the focus on quality companies characterized by competitive advantages and good returns on capital accompanied by attractive valuations.
Information message - The information in this message is produced for information purposes only and therefore does not qualify as offer or recommendation or solicitation to buy or sell securities or financial instruments in general, financial products or services or investment, nor an exhortation to carry out transactions related to a specific financial instrument.
The contents of this informative message are the result of the free interpretation, evaluation and appreciation of Pharus Asset Management SA and constitute simple food for thought.
Any information and data indicated have a purely informative purpose and do not in any way represent an investment advisory service: the resulting operational decisions are to be considered taken by the user in full autonomy and at his own exclusive risk.
Pharus Asset Management SA dedicates the utmost attention and precision to the information contained in this message; nevertheless, no liability shall be accepted for errors, omissions, inaccuracies or manipulations by third parties on what is materially processed capable of affecting the correctness of the information provided and the reliability of the same, as well as for any result obtained using the said information.
It is not permitted to copy, alter, distribute, publish or use these contents on other sites for commercial use without the specific authorization of Pharus Asset Management SA.