Traditional Portfolios vs SRI: Analysis & Comments
07 December 2022 _ News

Can finance really be sustainable? And does sustainable finance have better results than non-sustainable one? This topic, analyzed at a regulatory level, will be a major source of discussion in Europe in the coming weeks and months.
The analysis we would like to address here, with different degrees of sensitivity and complexity, is aimed at understanding whether the SRI or ESG bias can really be an added value to an investment strategy.
During the past few years, the attention of institutions, companies, and privates towards sustainability has enormously increased, resulting in a real boom in ESG investments.
The awareness of the need for a new, more inclusive development model is just a new trend or a constraint to the investment process that can increase the potential results?
First, we need to make a distinction between ESG and SRI.
The acronym ESG (Environmental, Social, Governance) was coined in 2005; the "E" refers to all the activities of a company to safeguard the environment; the "S" states the social aspect and the criteria connected to it (e.g., attention to human rights); finally, the "G" of Governance deals with corporate management, which must be inspired by good practices and ethical principles.
SRI, on the other hand, states for Socially Responsible Investment: assets must belong to companies and entities that reflect a certain moral imperative, which can be more or less embraced by investors (for example, do not invest in companies that sell alcohol and tobacco or avoid government bonds issued by countries governed by dictatorships).
The difference between the two acronyms is less subtle than expected. While the first definition indicates objective parameters and constraints that must be pursued, the second one is more subjective, as the ethical value of an SRI investment is related to the personal preferences of the investor.
Moving on to the analysis of market performances, we have identified 3 geographical categories (USA, EUROPE, and World) to compare the main ESG and non-ESG benchmarks' performances, also taking into consideration the relative volatility.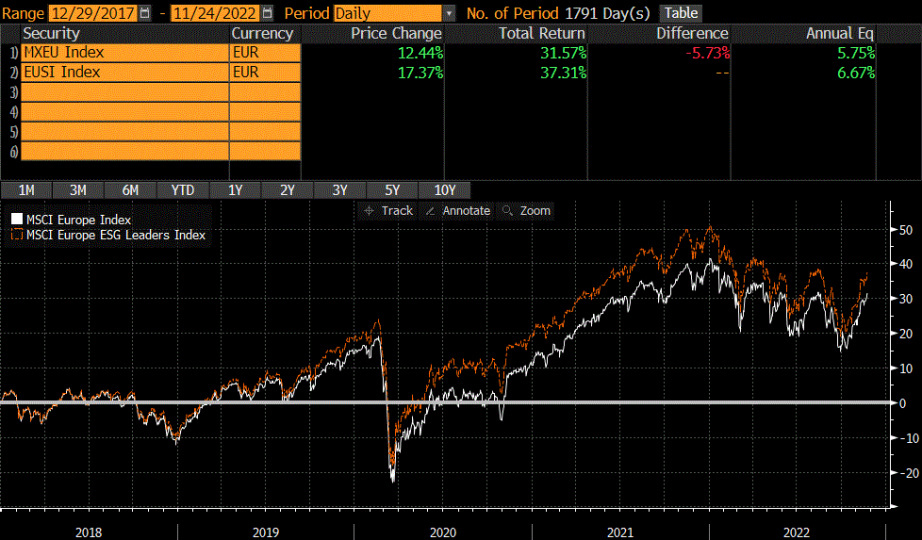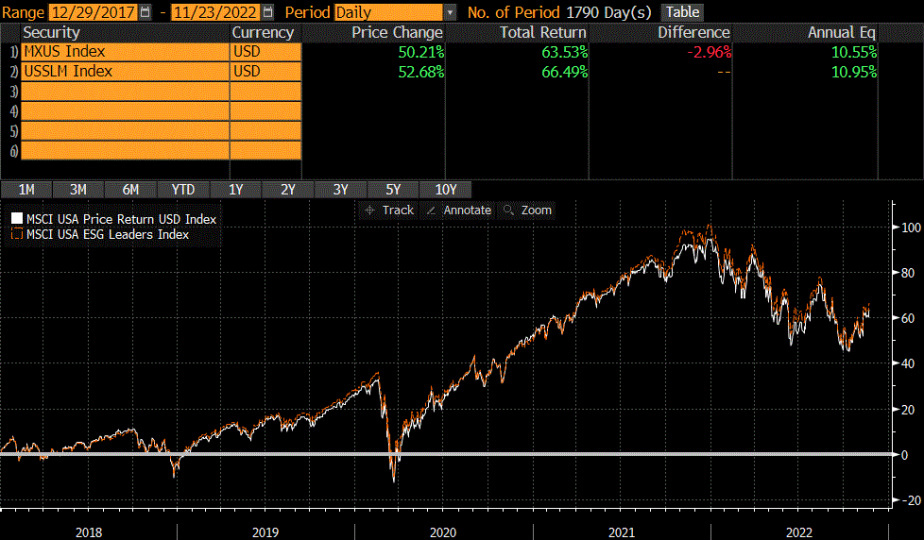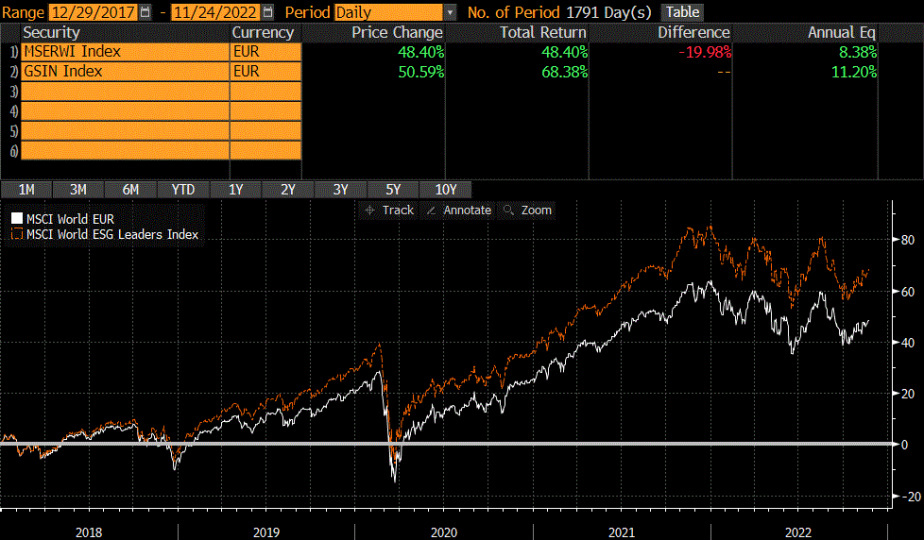 As shown in the table, investments following the ESG bias have obtained higher returns than non-ESG strategies while maintaining a volatility level that is perfectly comparable, and in some cases even lower, than the parent index; during this year the indexes' performance unfortunately underwent the same corrections, without showing particular conditions of excessive stress.
The sustainable investment revolution is a fact and seems to be unstoppable. This is confirmed by numbers, according to which also the number of pension plans including ESG factors in their investment choices is increasing on a yearly basis. In Italy, for example, more than three out of four pension plans now adopt sustainability criteria.
Therefore, we can say that, YES, investing in ESG is rewarding and that, NO, it cannot be considered just a "fashion choice".
Information message - The information in this message is produced for information purposes only and therefore does not qualify as offer or recommendation or solicitation to buy or sell securities or financial instruments in general, financial products or services or investment, nor an exhortation to carry out transactions related to a specific financial instrument.
The contents of this informative message are the result of the free interpretation, evaluation and appreciation of Pharus Asset Management SA and constitute simple food for thought.
Any information and data indicated have a purely informative purpose and do not in any way represent an investment advisory service: the resulting operational decisions are to be considered taken by the user in full autonomy and at his own exclusive risk.
Pharus Asset Management SA dedicates the utmost attention and precision to the information contained in this message; nevertheless, no liability shall be accepted for errors, omissions, inaccuracies or manipulations by third parties on what is materially processed capable of affecting the correctness of the information provided and the reliability of the same, as well as for any result obtained using the said information.
It is not permitted to copy, alter, distribute, publish or use these contents on other sites for commercial use without the specific authorization of Pharus Asset Management SA.