Where will US interest rates go?
01 March 2023 _ News
Since the beginning of February, the market has revised its estimate on the terminal rate from 4.85 percent to 5.40 percent, an increase of 55 bps. This is also higher than the 5.1% forecast by the FED's dot plots in December 2022. And the market estimates another 75 basis points of increase for 2023.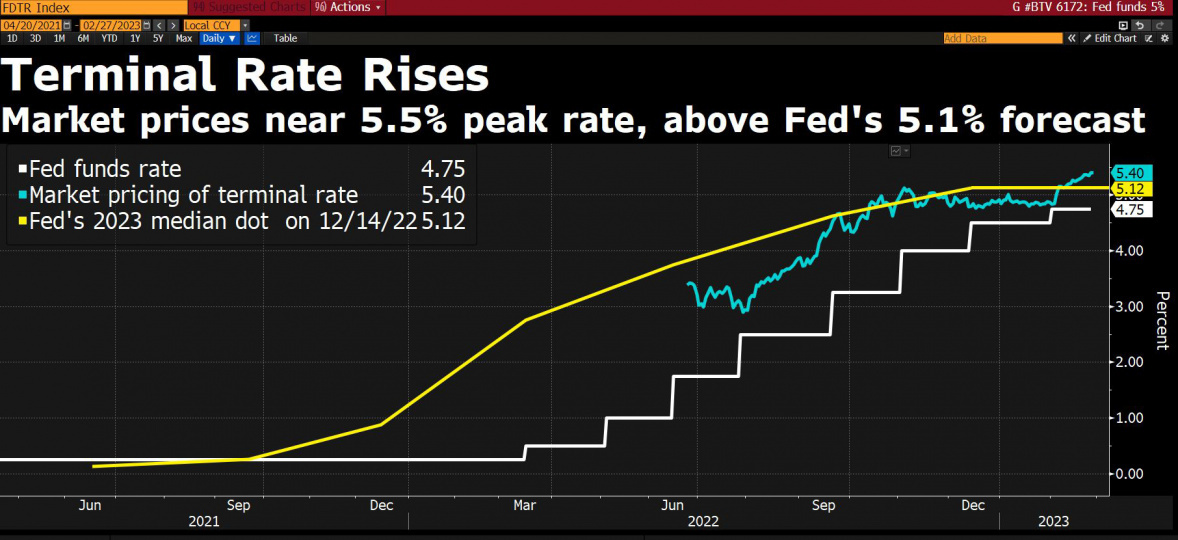 The rate hike was driven by inflation data that came out worse than expected, which increased volatility. Indeed, the producer price index and PCE showed that the inflationary trend is downward, but less quickly than expected. Betting on a terminal rate at 5.4 percent, the market is actually discounting a difficult inflationary scenario in which Fed officials are expected to raise interest rates until they cause a sharp recession in order to lower inflation.
A scenario that, according to our analysis, is unlikely, for several reasons.
First, there is a time lag between the Fed's actions and the economy. The differential between Fed funds and one-year inflation expectations already expresses a restrictive monetary environment, the Fed's main objective. This time lag is estimated to be about 1 year, and it shortened after 2008 when it was about 3 years. If we look at forward-looking indications, we see a clear slowdown in the economy, as evidenced by the Real Estate sector: new projects are fewer in number than completed projects, and this will lead to higher unemployment in the sector.
Second, the importance in the economy of small and medium-sized companies, which are more sensitive to rising rates, has increased. In fact, SMEs weigh about 78 percent of job openings, and 90 percent of the post-pandemic increase in labor demand. As can be seen from the chart, small business interest rates also lag behind Fed rates in time and are expected to reach 9.5 percent by mid-year.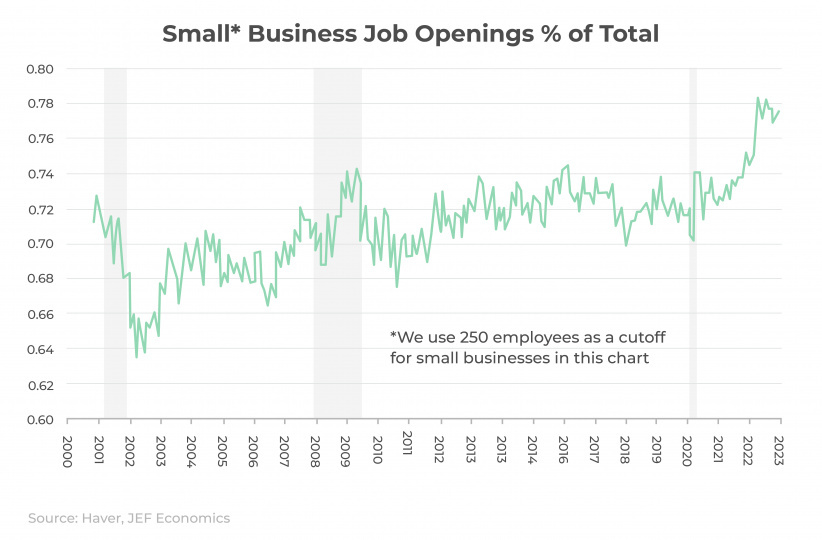 Third, the effects of the fiscal stimulus are diminishing. Indeed, it is estimated that U.S. households spent 66 billion in January, reducing the excess savings that were generated during the pandemic, which had helped to cope with a more aggressive monetary policy.
Fourth, as we see from the graph, the 18-month and 3-month curve differential, which best predicts recessions, has reached its lowest value since 1996. This differential has also been cited by the Fed as the best predictor of economic slowdowns and shows us that the economic situation is clearly slowing down.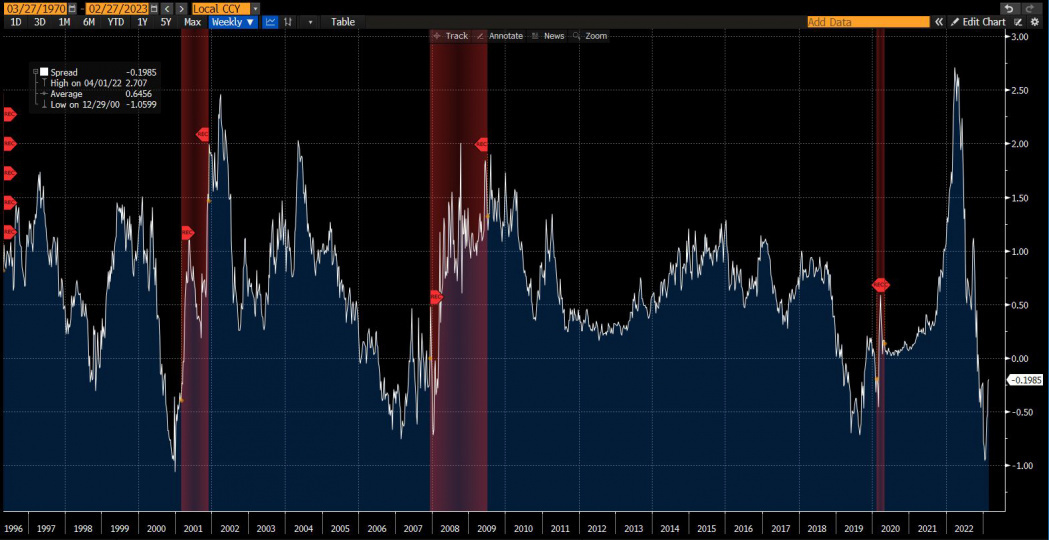 Finally, if we study the spread between the U.S. 10-year and Fed funds, we notice that during the tops of interest rate hikes, the spread between the 10-year and Fed rates reaches negative values that on average have exceeded 100 basis points. This implies that if we expect a Fed rate at 5.3-5.4 percent, this would imply a 10-year just above current levels.
In conclusion, in the coming weeks we will have some economic data leading us toward the Fed meeting on March 22, among them the CPI on March 14. Meanwhile, the market has begun to discount a terminal rate higher than the Fed's guidelines. We believe this is an excess for several reasons, among them the time lag of restrictive policies, which is estimated to be about a year. Considering the latter, we believe that it is greatly increasing the Fed's responsibility to determine the fragile balance between soft and hard landings, so Powell will not shock markets and will continue his rate hike plan, which, however, should be less pronounced than what the market is discounting today.
Information message - The information in this message is produced for information purposes only and therefore does not qualify as offer or recommendation or solicitation to buy or sell securities or financial instruments in general, financial products or services or investment, nor an exhortation to carry out transactions related to a specific financial instrument.
The contents of this informative message are the result of the free interpretation, evaluation and appreciation of Pharus Asset Management SA and constitute simple food for thought.
Any information and data indicated have a purely informative purpose and do not in any way represent an investment advisory service: the resulting operational decisions are to be considered taken by the user in full autonomy and at his own exclusive risk.
Pharus Asset Management SA dedicates the utmost attention and precision to the information contained in this message; nevertheless, no liability shall be accepted for errors, omissions, inaccuracies or manipulations by third parties on what is materially processed capable of affecting the correctness of the information provided and the reliability of the same, as well as for any result obtained using the said information.
It is not permitted to copy, alter, distribute, publish or use these contents on other sites for commercial use without the specific authorization of Pharus Asset Management SA.