Earnings call the bull
06 April 2023 _ News

That a scenario of potential start of a new bull market is slowly unfolding would certainly not be news.
That there is great skepticism among investors, however, is easily demonstrated.
As we can see from the chart that comes from Bank of America's fund management survey, there is still great negativity among institutional portfolio managers about the markets: in a ranking that considers growth expectations, cash share, and share of equities in portfolios, in a range of 0 to 10, the survey stands just above 1, near all-time lows.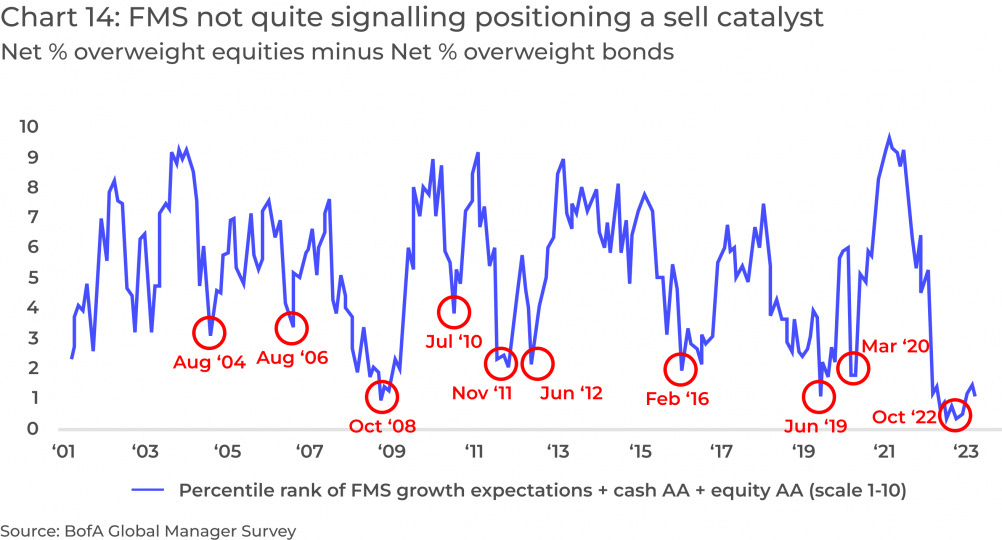 Even if we look at another Goldman research on systematic fund positioning (CTA), an extreme of negativity emerges with short positions on the S&P500 totaling .6 billion, the most negative level ever.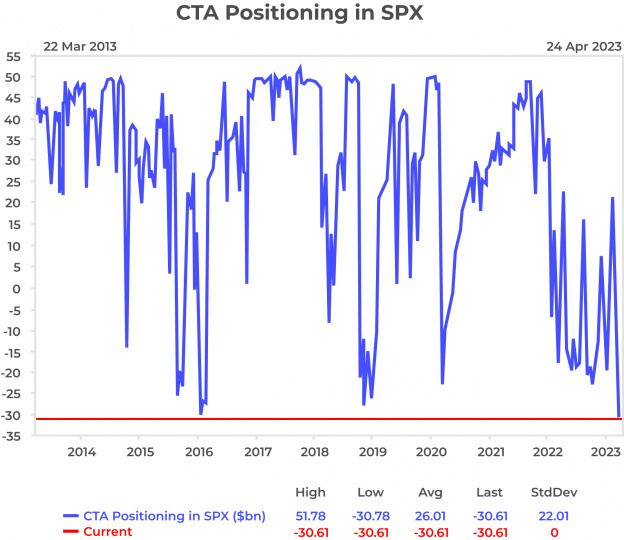 Looking finally at this graph on cash accumulation, we see that investors added 8 billion to cash in Q1 23. The last time they did so was spring 2020, a preamble to the post-pandemic bull market.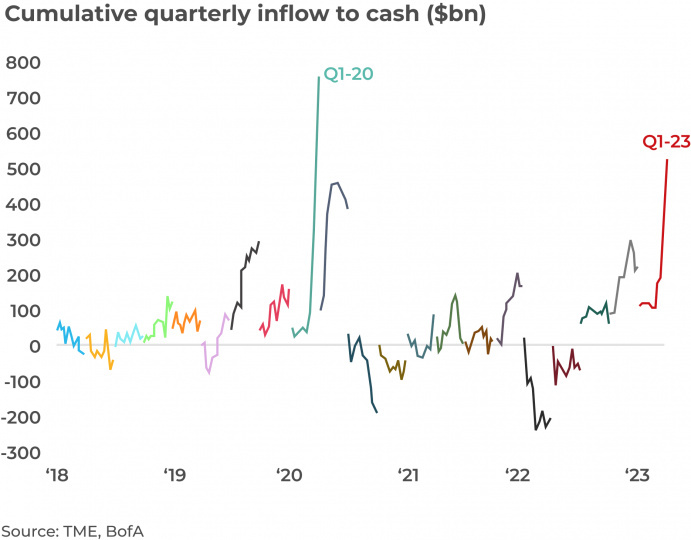 However, from our analyses of earnings revisions, emerges, almost under the radar, a signal of a potential fine cut in estimates that has historically accompanied the beginning of the new bull market.
We analyze the dynamics of earnings revisions very closely, and the reason we pay so much attention to these developments is very simple: earnings, along with valuations, are the only two variables that drive markets.
Analysts have been cutting their earnings estimates for 2023 and 2024 since mid-2022. Twelve-month rolling forward earnings peaked at a record high of 0 last year and have since declined, stabilizing only recently at 5, with even a small upward revision in recent weeks. We consider this figure of end of earnings cuts and beginning of upside very important because if it is confirmed, it would be the signal certifying a soft landing scenario and would leave room for an upward revision of estimates, up to a realignment to the projected 2024 EPS value (8), with an upside in estimates of about 10 percent.
This dynamic of a possible bottom on earnings, consistent with a soft landing, would also seem to be a scenario in line with analysis of the NERI (Net Earning Revision Index), which has been in negative territory since July 2022 and has reached levels that have historically been accompanied by mid-cycle slowdowns rather than a recession.
It is still decidedly early to be able to say whether a recession will be averted, but at present the soft landing scenario seems to us to be the most likely one, supported also by a CITI index of economic surprises that has risen in the United States in just a few months from -24 to 55, reflecting better-than-expected economic data.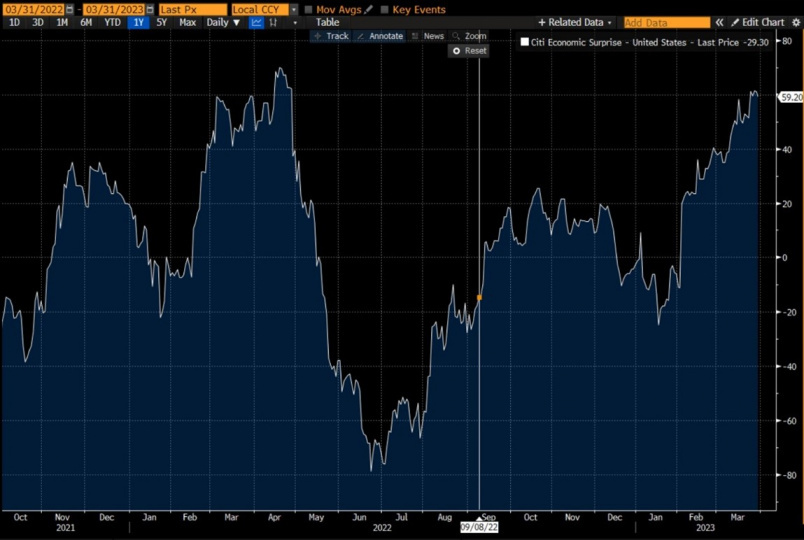 Attention must therefore remain sharply focused on the upcoming Reporting Season, from which we expect valuable insights into whether we can really talk about the end of estimate cuts, with important upside on equities, or whether the consensus will still have to lower its expectations of future earnings growth, pushing markets into a new correction.
Information message - The information in this message is produced for information purposes only and therefore does not qualify as offer or recommendation or solicitation to buy or sell securities or financial instruments in general, financial products or services or investment, nor an exhortation to carry out transactions related to a specific financial instrument.
The contents of this informative message are the result of the free interpretation, evaluation and appreciation of Pharus Asset Management SA and constitute simple food for thought.
Any information and data indicated have a purely informative purpose and do not in any way represent an investment advisory service: the resulting operational decisions are to be considered taken by the user in full autonomy and at his own exclusive risk.
Pharus Asset Management SA dedicates the utmost attention and precision to the information contained in this message; nevertheless, no liability shall be accepted for errors, omissions, inaccuracies or manipulations by third parties on what is materially processed capable of affecting the correctness of the information provided and the reliability of the same, as well as for any result obtained using the said information.
It is not permitted to copy, alter, distribute, publish or use these contents on other sites for commercial use without the specific authorization of Pharus Asset Management SA.