Inflation peak & Earnings: what to expect
19 January 2023 _ News

The US inflation peak confirmed last week shifts the market focus from inflation to earnings, with the market moving forward with cuts in equity multiples around -10%.
The American reporting season began on Friday, with analysts and companies having already cut growth expectations for the fourth quarter by 6.5%, bringing them to -3.9%, a lower value than the average declines over 5-10-15 and 20 years. Profit growth for 2022 was brought to +4.8%, while those for 2023 to +4.6%, compared to the +5% expected at the end of the year.
The first results released on Friday were those of US banks, with record net interest margins, highlighting how the rate hike has increased bank profitability. Particularly:
Wells Fargo reported earnings of 3.14% per share, led by net interest income, which has increased 31 basis points. A result above the consensus estimates of 3%. The bank expects margins to grow an additional 10% in 2023, slightly below consensus estimates.
JPM reported better-than-expected earnings, a result driven by stronger expansion in net interest margin which was 2.47%, up 38 basis points quarter over quarter and 20 cents above consensus. Strong earnings led to a return on assets of 20% and enabled the company to meet its 13% CET1 target a quarter before than expected, resuming share buyback plans this quarter. For 2023 JPM has provided slightly more unpleasant guidance than consensus.
Bank of America reported better-than-consensus 4Q EPS, driven by better-than-expected results in fee income, as stronger-than-expected sales and trading were offset by lower investment banking activity and asset management fees. A Net interest margin of 2.22% has increased 16 basis points over Q3, although it was lower than the consensus estimate.
For Q4, European earnings are expected to grow by +14.4%, a negative revision compared to the expectations of 21% at the end of November. For 2022, the expected growth is +19.7%.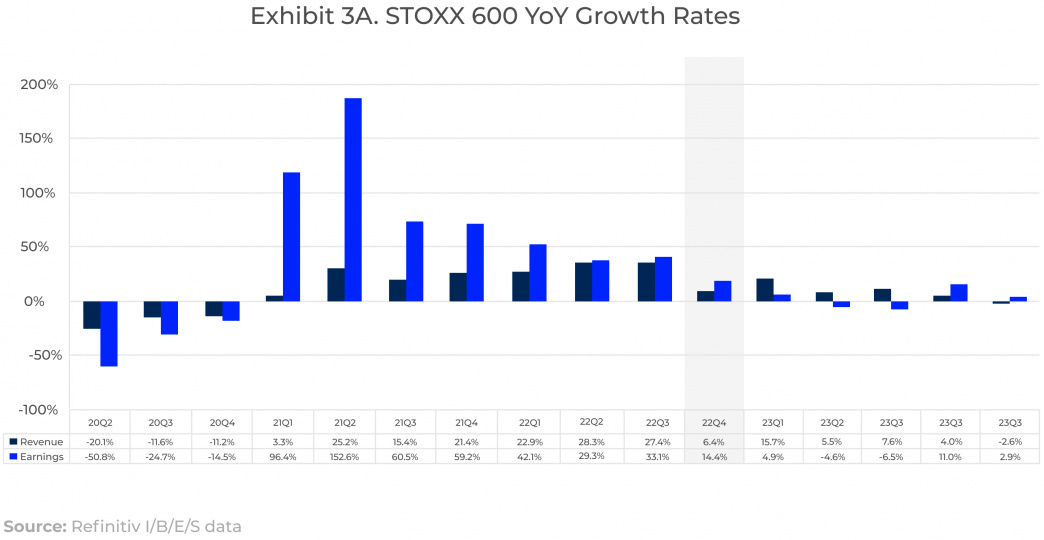 In conclusion, with the 2022 correction the stock market has already started to price in a profit cut of more than 10% in both the United States and Europe. A supportive reporting season, as confirmed by banks for now, accompanied by a slightly less aggressive FED, aided by inflation that is receding, are the catalysts for a recovery in equities. Recovery that is supported by the widespread negativity that continues to hover among investors.
Information message - The information in this message is produced for information purposes only and therefore does not qualify as offer or recommendation or solicitation to buy or sell securities or financial instruments in general, financial products or services or investment, nor an exhortation to carry out transactions related to a specific financial instrument.
The contents of this informative message are the result of the free interpretation, evaluation and appreciation of Pharus Asset Management SA and constitute simple food for thought.
Any information and data indicated have a purely informative purpose and do not in any way represent an investment advisory service: the resulting operational decisions are to be considered taken by the user in full autonomy and at his own exclusive risk.
Pharus Asset Management SA dedicates the utmost attention and precision to the information contained in this message; nevertheless, no liability shall be accepted for errors, omissions, inaccuracies or manipulations by third parties on what is materially processed capable of affecting the correctness of the information provided and the reliability of the same, as well as for any result obtained using the said information.
It is not permitted to copy, alter, distribute, publish or use these contents on other sites for commercial use without the specific authorization of Pharus Asset Management SA.